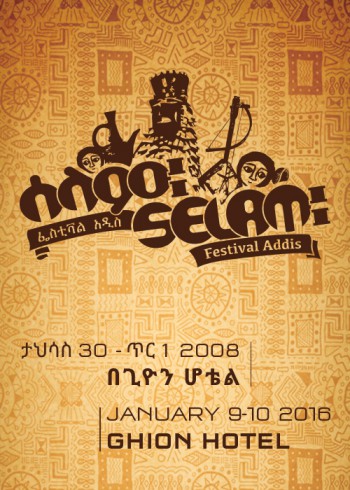 (We regret to inform you that it has just being confirmed to us that yassin bey will not be performing at Selam Festival Addis as he was not able to provide sufficient travel documentation.)
Save the date! It's time for the 5th edition of Selam Festival Addis, so get ready for the Music Event of the year! We bring you national, regional and international artists from a range of countries taking place at beautiful Unity Park right in the middle of Addis Abeba, Ethiopia!
On top of the outdoor live concerts with fantastic artists, the festival will offer a buzzing bazaar with merchandise and great food, family activities, DJ's and after parties at local Addis venues! The festival also hosts a cultural forum as well workshops and practical training opportunities for specially invited participants and delegates.
Selam Festival Addis has been working towards building an infrastructure for Ethiopian culture at its core, by putting forward a one of a kind platform for music and diversity every year.
– The festival is an organic platform creating an opportunity for international and national music professionals to meet and collaborate, for the audience to experience great live music where the concept is both international, pan-african as well as celebratory of Ethiopia's musical and cultural treasures. The festival also serves as a tool for networking and helps to start off a public discussion about music and culture both in Ethiopia and globally, says Teshome Wondimu, founder and executive director of Selam.
Selam Festival Addis 2016 is an interactive event with the aim to combine culture, music, social responsibility and putting Addis Abeba on the global festival map. The audience should be as engaged as possible and feel like they were a part of the journey from the beginning to the end.
Selam Festival Addis will partner with two NGO's this year: Skate Ethiopia and Macedonia NGO
Macedonia is local NGOs, founded by Mr Biniam Belete and 100% funded locally taiming to better the lives of elderlies and the mentally disabled found in Addis Ababa and regions surrounding the capital. By scouting the streets for people that fit the profile Macedonia takes them in and provides the necessary care and attention that they need. Some even manage to become a resident staff of the organization.
In addition, Ethiopia Skate, based in Sar Bet's parking lot in Addis Ababa is a grass root community that aims to take children off the streets and onto skating ramps. "Our goal is to make skating a recognized sport in Ethiopia and build a skating park in which children can come to skate and relax instead of engaging in harmful activities" says Sea, co-founder of Ethiopia Skate.
Selam Festival Addis 2016 will enable its audience experience the unprecedented opportunity of directly interacting with such organizations throughout the two days festival. Both Macedonia and Ethiopia Skate will showcase their work and engage directly with the audience. A portion of sales from Selam Festival Addis' promotional materials will go to Macedonia and Ethiopia Skate in addition to their dedicated spot on which they will showcase their talents will also sell their promotional materials and audiences will be able to skate for a limited amount of time in exchange of a small fee to support the youth.
– See you in Addis !
ሰላም ፌስቲቫል አዲስ መጣ።
ለ5ኛ ጊዜ  የሚካሄደው ሰላም ፌስቲቫል አዲስ ከምንጌዜውም በላይ  በሙዚቃ፣ በባዛር እና በልዩ ልዩ ዝግጅቶቹ እርስዎን ለማዝናናት ጥር 9 እና 10 / 2008 ዓ.ም በጊዮን ሆቴል ይጠብቅዎታል ።
ቀጠሮዎ ከኛ ጋር ይሁን።
Selam Festival is implemented and carried out by the Selam and Selam Ethiopia team! The festival is a part of the program Cultural Enablers supported by Sida.
Info: sfa@selam.se

Read More
Performing artists
Google map