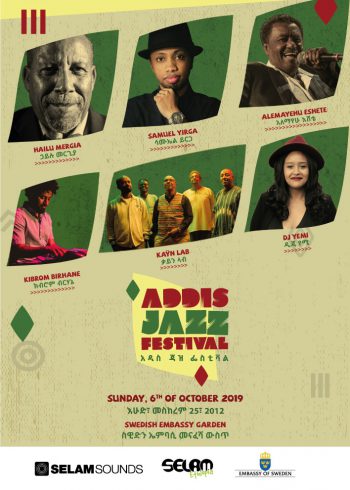 The 1st ever Addis Jazz Festival
Addis Ababa is to host its unique Jazz Festival
---
The origins of jazz as a music genre can be traced back to the fertile soils of the American south during the latter part of the 19th century. On this land, complex African rhythms, brought to the Americas through its slave trade, mixed with a variety of genres originating from Europe, together forming a refined and diverse genre that took a particular hold of the city of New Orleans, Louisiana.
By the 20th century, this form of art had begun to spread its wings across several continents, influencing and being influenced by other kinds of musical forms including Latin Jazz, European Jazz, and others. Meanwhile, the specific genre of Ethio-Jazz, drawing on and merging with this very development, was introduced by Ethiopia's own legend Dr. Mulatu Astatke.
Addis Jazz Festival 2019 presents a legendary line-up comprised of artists Hailu Mergia, Samuel Yirga, Alemayehu Eshete, Kibrom Birhane, and Kaÿn Lab. Worth some special attention, the performance of Hailu Mergia will mark his comeback on the Ethiopian stage after decades of absence. The festival is also accompanied by various entertainment activities including DJ performance and a selection of foods and drinks.
By merging vibraphone and dense combinations of wind instruments, mystical melodies, conga and bongo drums, Mulatu Astatke established himself as the father of Ethio-Jazz – a genre best described as a fusion of pop, modern jazz, traditional Ethiopian music, Latino rhythms, Caribbean reggae and afro-funk. As a musician, he has been attributed a nearly mythical trademark and is known as a source of inspiration for several artists across a wide spectrum of genres.
Together we transform Addis Ababa into a Jazz paradise!
Read More