SARABI is Swahili for Mirage, the word also means, Imagination, Vision and Creation.
The 2013 "Honesty Oscars Nominees" are undoubtedly Kenya's most electrifying LIVE performance outfit. 7 young boys and a girl with a beautiful story, they all grew up in the Eastlands Ghettos of Nairobi. SARABI has taken the imagination of Kenya and are referred to as a re-incarnation of Bob Marley and The Wailers, with the live performance etiquette of Fela Kuti. SARABI's music is centred on creating awareness towards social issues. Their scope is wide and touches on matters Political, Social, Environmental, and Spiritual, Economic etc.
A feature on Drum Magazine in Oct 2007 declared SARABI as
"The next force in Kenyan music".
In August 2013, BUZZ Magazine also declared SARABI as "The new face of AFRO-Fusion in Kenya"
SARABI released their debut album titled "OYAORE"- A new beginning in July 2013.

Photo Galleries
Sarabi (Kenya) appears on the following photo galleries:
Gallery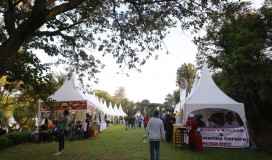 Videos
Sarabi (Kenya) appears on the following videos:
Video
Sarabi -Sheria feat. Juliani
Past Events
Sarabi (Kenya) has performed on the following Selam events: