Selam, along with the Swedish embassy in Ehiopia, the Swedish International Development Cooperation Agency (Sida) and local partners on September 22, 2014 launched its Cultural Enablers program focusing on creating an en­abeling environment for cultural producers in Ethiopia.
Cultural Enablers is an 11 tiered program that will run from 2014 to 2016 to address issues related to: raising the level of professionalism among cultural actors; increase the awareness among key actors within the cultural life on the role of women as cultural actors; increase the awareness of the principle of inclusiveness among key actors; and enable space for blind and visually impaired musicians. The Cultural Enablers program is co-implemented by Selam Ethiopia in partnership with local and governmental implementing organizations and is a new and unique stream of support for local organizations working in culture and music sectors.
The kick-off event took place at Saro- Maria Hotel in Addis Ababa, Ethiopia. On the occasion Jan Sadek, Swedish ambassador, Mrs. Anneka Knutsson, head of the Swedish International Development Cooperation Agency (Sida) in Ethiopia and Selam founder and Executive Director Teshome Wondimu were the keynote speakers.
Teshome Wondimu, the founder and Executive Director of Selam noted at the launch is part of Selam's endeavor towards supporting the nation's music and cultural sectors through capacity building in skill training , music production, distribution, management, promotion, marketing and media.
For her part Helen Asfaw, Program Director of Selam Ethiopia said that "Selam's approach towards supporting music and cultural sector comes from Selam's drive towards enhancing the competencies of local partners in running self sustained initiatives".
Cultural Enablers will provide financial, technical and capacity-building support to organizations in the areas of diverse project components; increase access to higher level of education in music; promote and protect cultural intellectual rights and raise the visibility of Ethiopia's music and cultural sectors locally, regionally and globally.
More from the Event on SELAM ETHIOPIAS FB PAGE
The program is made possible by fundings from: Sida, Forum Syd and the Swedish Postcode Lottery
Locations
This project is connected with the following locations
Location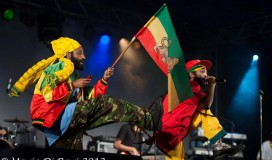 Addis Abeba, Ethiopia