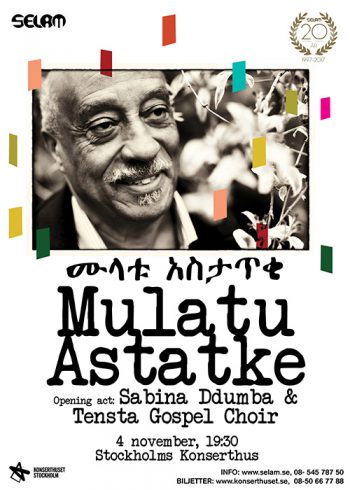 Selam 20 years!
This year marks the celebration of Selam's 20th anniversary! Our grand celebration is held at the Stockholm Concert Hall (Konserthuset Stockholm) on November 4th with concerts starring ethio-jazz icon Mulatu Astatke from Ethiopia and Sweden's own soul queen Sabina Dbumba & Tensta Gospel Choir!
Mulatu Astatke:
By merging vibraphone and dense combinations of wind instruments, mystical melodies, conga and bongo drums, Mulatu Astatke has since decades ago established himself as the father of ethio-jazz – a genre best described as a fusion of pop, modern jazz, traditional Ethiopian music, Latino rhythms, Caribbean reggae and afro-funk. As a musician, he has been attributed a nearly mythical trademark and is known as a source of inspiration for several artists across a wide spectrum of genres.
In his twenties, Mulatu travelled from his homeland Ethiopia to Wales with the aim to educate himself to become an engineer. However not far upon his arrival, he came to shift both his major and choice of continent to instead – after having studied music in both London and New York, become the first African artist to receive a degree from the Berklee College of Music in Boston.
He returned to Addis Abeba with a unique understanding of American jazz, which not only resulted in a number of nowadays legendary solo albums, but also in a for-the-time-being completely new musical scene in Ethiopia. Based on Mulatu as an icon figure, this resulted in a musical encounter between western funk and jazz, and East African melodies in the early 70s – and so the ethio-jazz had been born.
After the Ethiopian coup in 1974 times were scarce, and for a long time Mulatu Astatkes music were absent from the international radar. It was not until 1998, when the French record label Buda Musique dedicated an entire album in its Ethiopiques-series to Astatkes music, as the interest outside of the East African sphere re-emerged. In 2005, the American director Jim Jarmusch then used the old recordings in the soundtrack for his hit movie Broken Flowers, and shortly thereafter Mulatus music had been sampled by major artists such as Kanye West, Nas & Damien Marley, and Killah Priest. To say the least this put Mulatu Astatke right back into the limelight.
His latest album, "Sketches of Ethiopia", received great reviews all over the world and includes special performances by Fatoumata Diawara amongst ohers.
Today Mulatu Astatke and his ethio-jazz tours all over the world to perform for sold out concert halls, and on November 4th he visits Stockholm Concert Hall and our celebration of Selams 20th anniversary!
Participating musicians:
Mulatu Astatke – Vibraphone, Wurlitzer-piano and percussion
James Arben – Saxophone, fleut and bass clarinett
Byron Wallen ‐ Trumpet
Ben Trigg – Cello
Alexander Hawkins – Piano and keyboard
Seth Bennett  – Contrabass
Richard Olatunde Baker – Percussion
Tom Skinner – Drums
Sabina Ddumba & Tensta Gospel Choir:
In 2015, Sabina Ddumba released her two hit singles "Effortless" and "Not Too Young", with which she was awarded the Swedish music awards Grammis and P3-gold for being the "Newcomer of the Year" (Årets Nykomling). That same year she toured around the Nordic countries and received acknowledgement as a dignified live artist. In 2016, she then released her much awaited debut album "Homeward Bound" which made the music critics cheer. Renowned journalist and popular culture expert Jan Gradvall called it the "wisest album of the year" and the Swedish magazine Nöjesguiden wrote that Sabinas aura of urban wisdom permeated large parts of the record. Upon this album release, Sabuna Ddumba embarked on her Homeward Bound world tour in 2017.
Later this fall she will also participate in the widely popular Swedish TV-show Så mycket bättre. During the Selam concert in Stockholm Concert Hall, she will perform together with Tensta Gospel Choir – the choir from which she herself emerged as a musical talent.
Tensta Gospel Choir was formed in 1996 by Michelle Nakagawa as a project with the purpose to enable integration between young people with different cultural backgrounds. The choir quickly grew to become a mixed group of people from all over the world, with varying backgrounds and a common interest for gospel music. Most of them joined the choir out of an interest to sing, while others merely came to listen and be part of the community. Over the years, new and old members have joined and re-joined the choir, while its messages and community has remained. Apart from Sabina Ddumba, other known artists such as Seinabo Sey, Lykke Li and Mapei also emerged from the Tensta Gospel Choir.
Tensta Gospel Choir has previously performed in festivals, the Grammis award gala, in Swedish television and famous events such as Allsång på Skansen as well as in several concert halls. Apart from this, the choir still maintains its base in the Tensta church, where they each month participates in the services of the assembly to share the messages of gospel music with its visitors.
Read More
Google map