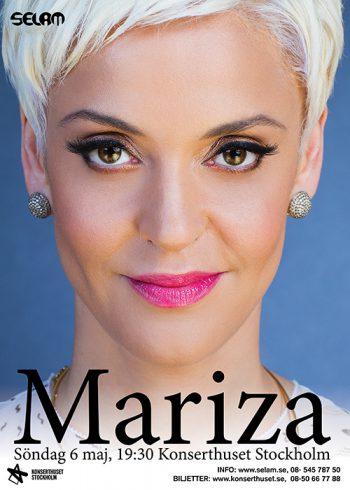 The queen of Fado is back! 
Portuguese fado is born in the space where domestic sailor songs meet Arabic and African influences. A great deal has changed more than two hundred years later, but the passion remains and lyrics often focus on the fate of the vulnerable.
Mariza grew up in the fado district of Lisbon and began her musical career with interpretations of one of the genre's giants, Amália Rodrigues. More than a decade after her debut, Mariza is now the absolute biggest fado star, with listeners far beyond the traditional concert audience. Over the years, Mariza has been named the best world music artist by the BBC; she has been nominated for a whole host of Latin Grammy Awards and has shared the largest stages with everyone from Sting to Gilberto Gil. She is also a huge part of why UNESCO added fado to its list of the World's Intangible Cultural Heritage in 2011.
But above all, just as the first mother of modern fado Amália Rodrigues did, in recent years she has found her own unique expression and expanded the concept of what fado can be. And when Mariza steps into the spotlight, it is pure magic! She can truly spellbind her audience.
Now, with the whole world as her stage, this natural star is back in Stockholm at last!
Participants:
Mariza – Vocals
José Manuel Neto – Portuguese guitar
Pedro Jóia – Guitar
Fernando Araújo – Double bass
Hugo Marques – Drums/percussion
This concert is a collaboration between Selam and Konserthuset Stockholm.
Read More
Google map