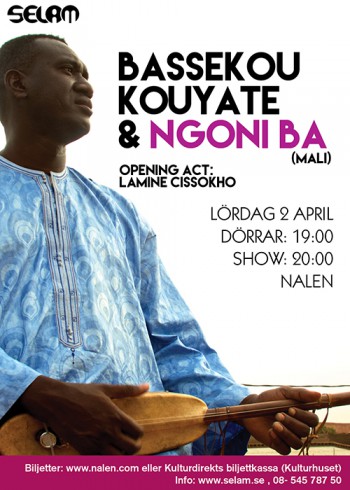 Bassekou Kouyate is considered to be the best Ngoni player in the world, revolutionizing the playing of this traditional instrument and gathering 4 Ngonis with different size and pitches in his band "Ngoni ba". The band is as a groovy guitar band with its 4 Ngoni players, 2 percussionists and the fantastic female singer Amy Sacko.
Opening act: Lamine Cissokho (SE).
Bassekou Kouyate is one of the true masters of the ngoni, an ancient traditional lute found throughout West Africa, and he has collaborated with many musicians in and outside of Mali: He played in the Symmetric trio alongside Toumani Diabate (kora) and Keletigui Diabate (balafon). He was part of Taj Mahal's and Toumani Diabate's 'Kulanjan' project, as well as being one of the key musicians on Ali Farka Toure's posthumous album 'Savane' which was released July 2006. He toured with Ali Farka Toure leaving a lasting impression on the audience as the band's solo ngoni player.
After his celebrated debut album 'Segu Blue' and the Grammy nominated follow up 'I speak fula', hundreds of concerts all over the globe, performing as headliner in the AfroCubism project. Just a few months ago, he appeared on stage together with Sir Paul McCartney, John Paul Jones, Damon Albarn and many others at the latest Africa Express events.
In 2013 Bassekou Kouyate returned with his new album 'Jama ko'. The album was recorded during the coup d'etat in March 2012 and is Bassekou's statement to the ongoing crisis in Mali. The album was produced by Howard Bilerman (Arcade Fire, Godspeed you! black emperor) and features Taj Mahal, Khaira Arby, Mocky Salole & many others. The album became album of the year in the World Music Charts Europe 2013 and became best world music album of the year in Les Inrockuptible, Mojo, Uncut & many others. The BBC chose him as "best African artist of the year" and moreover his debut album "Segu Blue" as "best world music album of the year".  After the Prize-winner's concert in the Royal Albert Hall in London, The Independent wrote: "The best rock'n'roll band in the world."
They have played many important jazz, world music and rock festivals including North Sea Jazz Festival, Roskilde Festival, Glastonbury Festival, Fuji Rock Festival, Womad, Latitude, the most important Africa Festivals in Europe and many more.
Like the two first albums, the current CD "Jama Ko" (March 2013) entered the World Music Charts Europe on #1 and stayed for some months in the top 10.
His new album was released in spring 2015 (by Glitterbeat).
Read More
Performing artists
Artist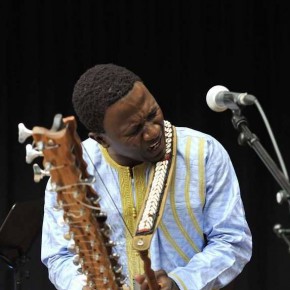 Musician
Artist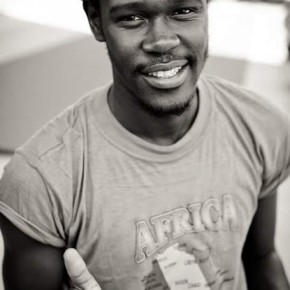 DJ
Google map