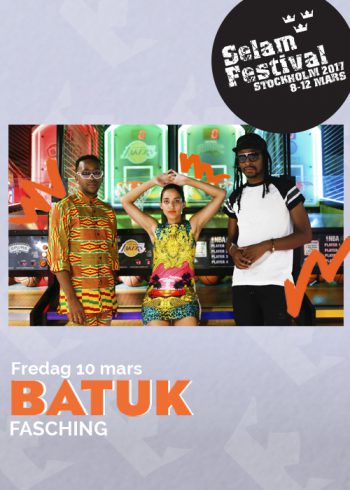 In 5 Day Selam Festival Stockholms occupy the capital city with concerts, after-parties and mingle. I this year's updated version the festival will be held in Stockholm at a total of 5 different stages, with performances from countries like Mali, South Africa and Cuba. On the third night of the festival we welcome South African Batuk with support: ADG to Fasching!
Batuk is a creative collective founded by South African electronic producers Aero Manyelo and Spoek Mathambo alongside prolific artist and lead vocalist Carla Fonseca.
The eclectic new ensemble, which first performed at the African Futures closing party in Johannesburg in October 2015, is on a quest to connect the African diaspora by exchanging and sharing African rhythm culture and language while fusing it with electrifying house beats. With influences from zouk, afro/tribal house, soul, techno and traditional African music, the trio represents the spirit of proudly African youth with a global state of mind.
To date the project has completed multi-disciplinary collaborations in South Africa, Mozambique and Uganda, which have resulted in a sound that is set to capture the imagination of listeners around the globe. The group's first EP, Musica da Terra (Portuguese for 'music of the earth'), is a genre-defying release that features the likes of Grupo Zore and Grupo Makarita from Mozambique; as well as Giovanni Kiyingi, Annet Nandujja and Nilotica from Uganda. 
The first single 'Daniel' (along with the B-side 'Reya Congo') features frequent collaborator South African songstress Nandi Ndlovu. This single is accompanied by an exquisite music video, directed by acclaimed director Kent Andreasen and shot on location in Impaputo, Mozambique.
Soundcloud: https://soundcloud.com/batuk_sa
ADG: An accomplished artist and rising star of the Stockholm electronic scene, ADG, also known as ANDREI DOGARU GAMALAN, is one of the flag bearers of the new Swedish future bass musical genre. Roots from central Europe, but born in Stockholm, ADG is a leading talent and one of the most emblematic artists of younger recording team. With incredibly groovy loops, classy hip-hop rhythms, gloriously funky basslines and richly colorful synth sounds, ADG's music stands up to comparison with the masters of the genre.
Read More