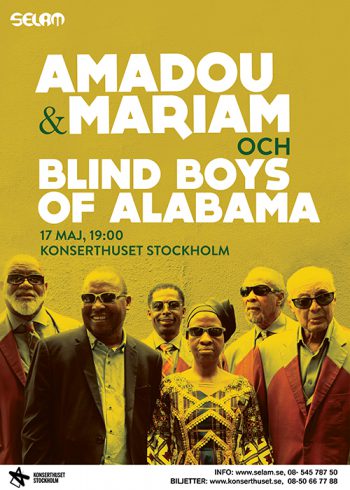 Ett unikt musikaliskt möte mellan Bamako och Birmingham!
Malis superstjärnor Amadou & Mariam och de levande legenderna Blind Boys Of Alabama möts på scen för en unik konsert där svängig afropop möter blues och gospel.
Samarbetet mellan Amadou & Mariam och Blind Boys Of Alabama uppstod när grupperna uppträdde på samma festival. De formade en stark vänskap och beslutade sig för att spela in singlarna "Bamako to Birmingham" och "Two cultures, one beat" som hyllats över hela världen.
Nu ger sig grupperna ut på en gemensam världsomfattande turné med stopp på Konserthuset Stockholm 17 maj!
Lineup:
Amadou Bagayoko – Sång & gitarr
Mariam Doumbia – Sång
Jimmy Carter – Sång
Ricky McKinnie – Sång
Ben Moore – Sång
Joey Williams – Sång & gitarr
Sam Dickey – Bas
Yves Abady – Trummor
I samarbete med Konserthuset Stockholm
Read More
Google map