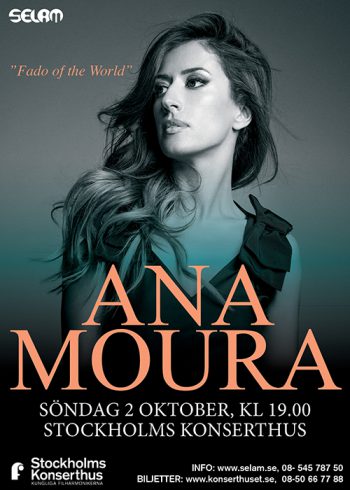 Ana Moura's career is currently more successful than any other Portuguese artist. She has sold over 300,000 CDs and honored with nearly a dozen awards, which include two Golden Globes, two Amália awards and the prestigious "Best Artist" by music magazine Songlines. On top of this, she also has a number of collaborations and concerts with music icons such as Prince, the Rolling Stones, Caetano Veloso, Gilberto Gil and Herbie Hancock.
Moura is, like all great fado singer, schooled in the fado clubs in Portugal, including the most prestigious of all: Maria de Fes "Sr. Vinho" in Lisbon. It was here she met Jorge Fernando, himself a prominent singers and for many years the famous fado singer Amália Rodrigues classical guitarist. He became Moura's mentor, accompanist and chief partner. Together they have produced several critically acclaimed and best-selling albums.
Ana Moura's dark, poignant contralto captures listeners outside the traditional fado circuits, and she has broadened the genre by borrowing elements from both pop and jazz.
Her latest album released in Vilamoura in Portugal in November 2015 and reached directly to gold status. The record before that, Desfado became Portugal's best-selling album in recent years.
Moura is produced by Larry Klein, 4-fold Grammy winner who has produced for names such as Joni Mitchell and Herbie Hancock. Many of the big names in Portuguese music has contributed to the disc. Carlos tea, as Ana Moura sings for the first time, has contributed music and lyrics. The same applies Samuel Uría. Others that Ana Moura lends his voice for the first time include Jorge Cruz (Diabo na Cruz), Edu Mundo and Sara Tavares, who composed the music to the lyrics written by Kalaf (Buraka Som Sistema). Some of José Eduardo Agualusas texts are set to music to the music composed by Angola Toty Sa'Med.
In cooperation with  Stockholm Concert Halll
Read More
Google map