Selam Talks
måndag 25 maj 2020
/
/
Tags:
Forward Africa – Selam Panafrican Webinar
What are the conditions for culture in Africa in the time of Covid-19? The Corona virus affects relations, the public sphere, precarious toilers, the economy and the job sector. How can artists, musicians, designers, journalists and producers across the continent learn from each other and not only survive the crisis but actually create lasting frameworks that will enable culture to thrive and become financially sustainable in the future?
We want to redouble our efforts to promote African culture and in 2020 we launch a webinar focusing on threats and opportunities for culture in Africa in this time. We are drawing from our more than 20 years of experience of working with partners in the field both old and new; musicians, concerts, artists, publishers and professionals in various fields of culture on the African continent. Our aim is to facilitate cooperation and mutual support in these challenging times.
We also want to invite policy makers, scholars, activists, government agencies, civil servants, foreign aid agencies and journalists to join in the discussion.
Topics include:
– how do we simultaneously protect and promote artistic freedom in Africa in this time?
– what are the economic challenges for individual artists and musicians in Africa at the moment, and which are the different experiences across the continent?
– how does the virus outbreak and measures to protect people from it affect event organizers?
– what are the long term implications of how the Corona virus has affected communities in Africa and what does that imply for the field of culture?
– what are the artistic visions that inspire Africa today and how do they involve digital media forms?
– what key government reforms could guarantee sustainability for professionals in culture today?
– what steps beside economic relief can be taken by governments to facilitate conditions for professionals in the field of culture?
– most African countries are characterized by a paradox of a relative abundance of platforms for sharing culture digitally – i.e. mobile phones et cetera – but an underdeveloped infrastructure and a lack copyright jurisdiction and stable networks. How can that be adressed so that artists get remuneration for their work?
– what positive efforts to combat the virus as well as strategies for limiting its sociocultural effects can we share?
– how can culture play a vital role in strengthening the struggle to tackle the effects of the virus?
– how can the African diaspora play a constructive role in this situation?
– do certain strategies against Covid-19 pose threats to human rights and civil liberties in Africa?
Full list of speakers will be continually updated. Follow our webpage for more info, the webinar will be held continually during 2020. The webinar will be held in English unless otherwise noted. The first webinar will be held on May 27 in Ethiopia (discussion in Amheric).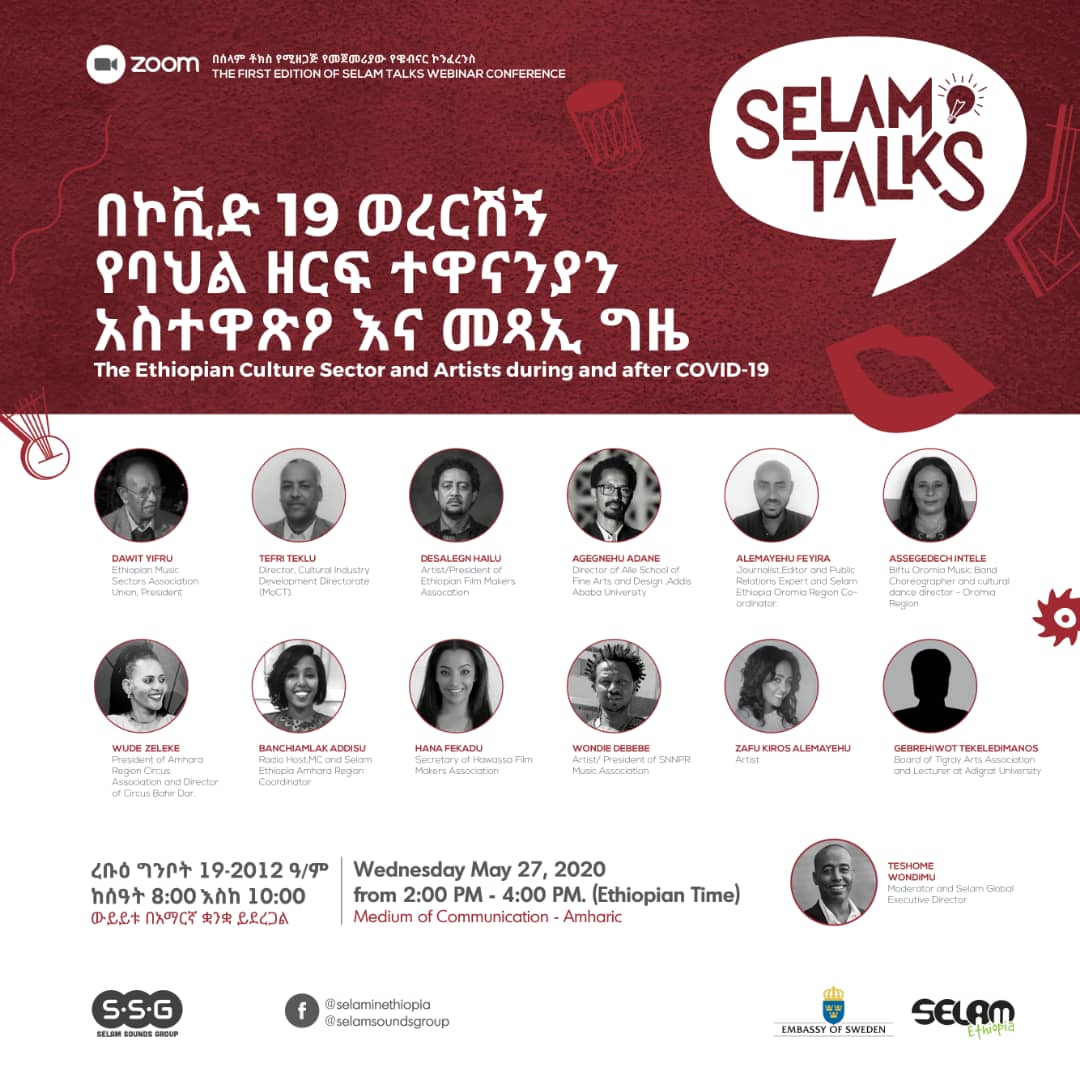 We will prevail!