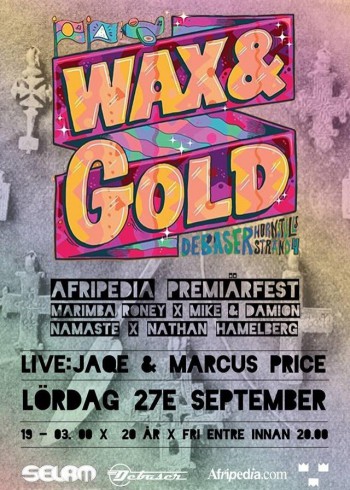 In September it's time for the Selam and Debaser Strand club Wax & Gold again! We will begin on 27 September when we celebrate Wax & Gold One Year in style with awesome artists, DJs and film screenings!
The evening begins by Stocktown Films featuring their latest project Afripedia!
Live on stage is Marcus Price & Jaqe who recently released the album Eikon!
In 2013 they released the single "Oprah," giving us a hint of this superduos unique sound. "Oprah" was followed up by the EP "Eikon", praised by dance floors and critics across the country. Jaqe has often been described as "your favourite rappers favorite rapper" and Nöjesguiden has called him "Sweden's best rapper."  This son of Malmö has in recent years been renowned primarily for his acclaimed guest appearances on, among other things, Labyrints "Ortens favoriter (Remix)" and Mack Beats acclaimed "Centre". Former Fattaru rapper Marcus Price has dedicated himself to producing music. He has produced for artists like Mapei, Toffer, Houman Sebghati, City and now Jaqe.
Here is an excerpt from DJ, activist & anti racist Nathan Hamelbergs preface to the above album "Eikon":
– In Spike Lee's break through film" Do The Right Thing ", on a hot summer day in a neighborhood in Brooklyn that ends in riots, a pizzeria in the neighborhood is the epicenter, and the conflict begins with one of the regulars ask "how come you got no brothers on the wall?" The opening track "Malcolm" rattles off the brothers who should be documented in Swedish history books for justice to be done and place to be taken. The same can be said of the subsequent track, the beat to "Malcolm" is melodramatic, while the disc's sound is becoming more and more intoxicating the farther I listen. For Malcolm, a majestic video is made, it's as if Göran Olsson's documentary "The Black Power Mixtape" first expanded in scope – to cover not only the USA but Africa, the Diaspora and even Sweden – to then be compressed into four minutes. 
Nathan Hamelberg  is among other things behind the legendary clubs Serious Party and Bring The Noise. Nathan has promised us the mix of the century consisting of  R'n'B, digital roots, soukous, cumbia, rhumba and dancehall!
Marimba Roney
Marimbas adventure among the turntables began at age 15 at one of Stockholm's most important clubs of reggae and African music. She has since continued to deliver dancehall, hip hop, jungle, tropical bass, grime, dub step with MERA everything she loves and who gets the dance floor to lift.
Mike Yangstar & Damion
Our dynamic residentduo Mike Yang Star & Damion close  the evening in the main hall with the best of dancehall, azonto, Coupe Decale and more!
Mahoyo
Schedule
20-22 Afripedia premiere party
22-23.00 Dj Nathan Hamelberg
23:00 – 24:00 Marcus Price & Jaqe
00:00 to 01:20 Marimba Roney
1:00 to 3:00 Mike & Damion
Brooklyn Bar
00-03 Namaste
Debaser StrandHornstulls Strand 19-03
Free admission before 20:00 then sek 100 (no presale)
Read More
Performing artists
Google map