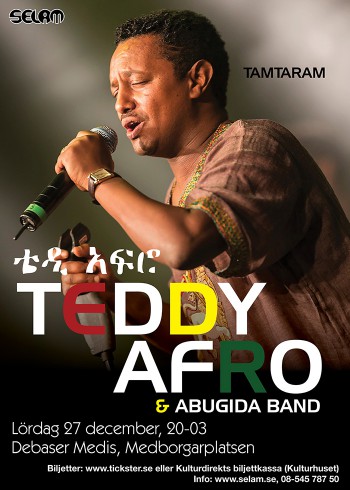 Selam has the great pleasure to introduce Teddy Afro & Abugida Band at Debaser Medis!
Tewodros Kassahun, better known by his stage name Teddy Afro, is an iconic pop star who has dominated the Ethiopian music scene for nearly a decade! Teddy Afro writes his own lyrics to his music, a modern hybrid of reggae and Ethiopian pop, with topics like reconciliation, cohesion, history, justice and equality.
Since he signed with an Ethiopian record label in 2001, he has released six albums: Abugida (2001), Tarik Tesera (2004), Yasteseryal (2005), Yasteseryal Edition 2 (2005), Best Collection Nahom Volume 14 (2006), Tikur Sew (2012).
Currently, Teddy Afro  latest production: 70 Dereja, Tam Taram.
Tickets on sale now!
For more info on Teddy Afro: www.teddyafro.info 
Read More
Videos
Video
Teddy Afro Münchenbryggeriet 2013
Google map