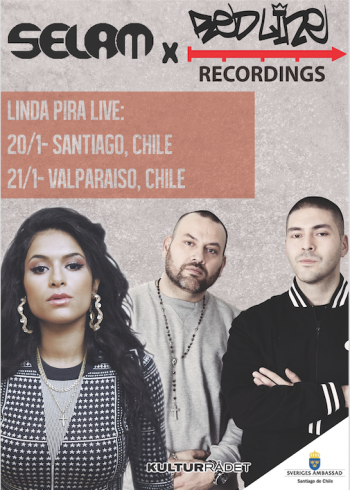 Selam's first tour in Latin America with Swedish artists!
With support from the Swedish arts council and the Swedish Embassy Santiago Selam will be able to visit Chile with The Salazar brothers and Linda Pira. In addition to concerts in Santiago and Valparaiso, two seminars will take place on January 24th at the Swedish Embassy Santiago:
-Strategies to increase exchange between Sweden and Chile, led by Selam producer Osiel Ibaniez
-New Business models for independent record labels / producers, led by Redline Recordings
About Linda Pira: If you merge all the praise heaped upon Linda Pira and put it in a pile, you would easily reach the peak of Mount Everest. With The Salazar Brothers and Redline having her back, she takes Swedish hip hop to new grounds, here she goes wild with her rhymes. Her debut EP Matriarch (2013) was hailed by critics and she took home three Grammy nominations at the 2014 Gala -Newcomer of the Year, Artist of the Year and Hip hop / soul of the year. Since then the victory train has just continued. In case the Grammy nominations didn´t say enough, the 2015 P3 Guld gala certainly did. With "Knäpper my fingers (remix)" Linda Pira won song of the year – and also the prestigious title as the hip-hop / soul of year. Linda Pira also appeared in the TV4 program "Lyckliga gatan" in which she interpreted the Mats Paulsson classic "Visa vid vindens ängar".
About the Salazar brothers: Swedish hiphop began around the time Latin Kings was founded by Salla and Cheppe, among others. Since that day, The Salazar Brothers has been around. Salla, Chepe and Masse is The Salazar Brothers. In 2012 Masse won a Grammy Award for producer of the year. They tour as a group, DJ's or with their Redline Workshop.
The Salazar Brothers consists of producers Masse Salazar, Salla and Chepe Salazar Salazar. TSB has worked with Swedish urban music since the early 90s and have produced everything from The Latin Kings to Mando Diao. TSB has over the years worked as DJ's, they ran record labels, studios and sometimes their own club. Today they work primarily as producers and songwriters with various artists in Sweden, Chile, USA and Germany. The Salazar Brothers work with hip-hop, rock, reggae, RnB, urban, etc.
Read More