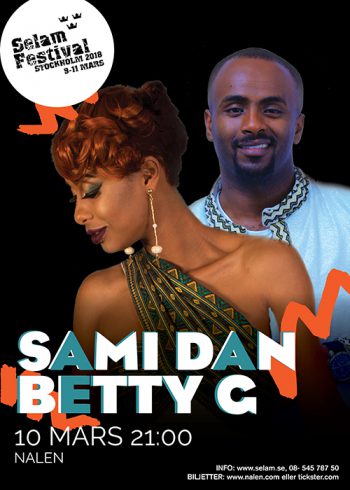 Two of Ethiopias hottest up and coming urban artists are coming to Nalen and Selam Festival Stockholm!
Sami Dan
The musical career of Ethiopian reggae artist Sami Dan started off early and, despite intense university studies, his passion for music has never cooled off. While working as an engineer, Sami Dan played with various bands throughout the years, among others Zewd Acoustic who has attracted big shows in Addis Ababa. As a solo artist, Sami Dan has won several prestigeful prices and played at international music festivals. His solo debut album, Kerase Gar Nege-Ger, shows Sami Dan's exceptional songwriting skills and groovy melodies fused with authentic reggae arrangement. His texts concerns themes like peace, spirituality, understanding, love, joy, and humanity.
Betty G
Betty G participated in the music television show Coke Studio Africa, broadcasting all over the African continent, and showed with her debut album Manew Fitsum that she is one of Ethiopia's brightest shining stars. Betty G's musical voice is a direct pop, mixing Amharic with French and English. Her collaborations include well-established artists like Teddy Afro, Zeritu Kebede, Jhonny Raga and Natal Ayalew. Betty G is also engaged in humanitarian issues, she has supported female empowerment initiatives, participated in benefit concerts and is also an ambassador for the UNHCR.
In collaboration with Nalen.
Read More
Google map