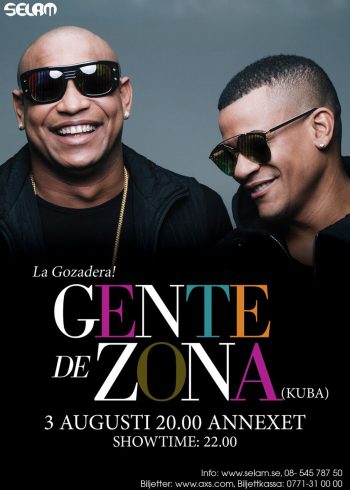 Gente de Zona, formed in 2000, is one of Latin music's most unique groups. Through one and a half decades of exploring and refining sounds, the aggrupation has evolved from grassroots rap collective to the chart-topping fixture of today.
Alexander Delgado initiated the movement in his native Havana, Cuba's neighborhood of Alamar. The impulse was to encourage people to dance and have a good time, while creating a platform for expression, something unfiltered where the neighborhood could reveal its voice. He dubbed the affair "Gente de Zona," which translates to "People of the Neighborhood."
Over time buzz grew, and yet another vivid sound was being produced on the musically-rich island. The subsequent years brought international exposure through touring and collaborations, along with a rotating ensemble that forged the group's versatility.
The duo we know today is comprised of Delgado and Randy Malcom Martinez, whose complementary vocals and writing styles have brought them to the forefront of international attention. Their launch into the high-profile Latin music universe began with "Bailando", the Gente de Zona – Descemer Bueno – Enrique Iglesias collaboration that became the biggest hit of 2014. Since then, Gente de Zona released their own back-to-back critically acclaimed singles, "La Gozadera" and "Traidora," in collaboration with Marc Anthony, and later made their major label album debut with Visualizate. Today their infectious music and spirit continues to cement their place on the premier Latin music landscape.
Doors: 20.00
Showtime opening act(Sayen och Adrian): 21.20-21.50
Showtime: Gente De Zona: 22.30-00.10
Read More