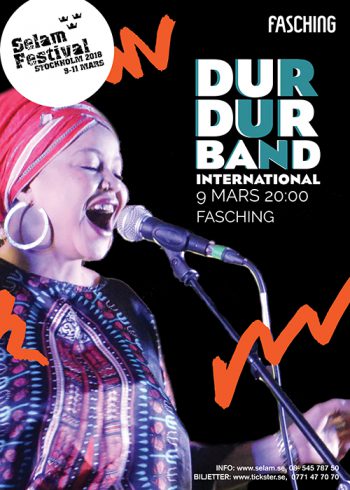 Legendary discofunkpioneers Dur Dur Band International (Somalia) to play at Selam Festival Stockholm 2018!
In the late 80s Mogadishu, the capital of Somalia, was referred to as the "pearl of the Indian Ocean". Mogadishu was at the time a flourishing city with a vivid nightlife and Dur Dur Band composers of its very soundtrack. But in the beginning of the 90s dictator, Mohamed Siad Barre, took Somalia in his grip and soon after came the civil war. Dur Dur Band was forced to disband and it's members spread over the world but still, the history of Dur Dur doesn't really end here.
Some years ago influential record company Awesome Tapes From Africa decides to reissue some of Dur Dur's greatest groves – which lead to a newly woke interest for the band's music also outside the Somali community. And more than 10 000 kilometers from Mogadishu, in London, some of the former band members find each other.
They revive the band, now under the name Dur Dur Band International and recruits great vocalist Fadumina. And in March the legendary eight-piece band bring their mix of Somali funk, disco and gentle soul to Stockholm and Sweden for the very first time. The Dur Dur Band International show at Fasching also marks the beginning of Selam Festival Stockholm 2018 that takes place between 9-11 March.
Lineup:
Fadumina – sång
Muna Ahmed Ali – sång
Omar Mohamed – gitarr
Abdulahi Agami – bas
Said Hussein Omar – trummor
Ali Ikar Mohamed – gitarr
Yusuf Ahmed Nagi – keyboard
Mohamed Siidi Karama – saxophone
Salah Ahmed – congas
In collaboration with Fasching
Read More