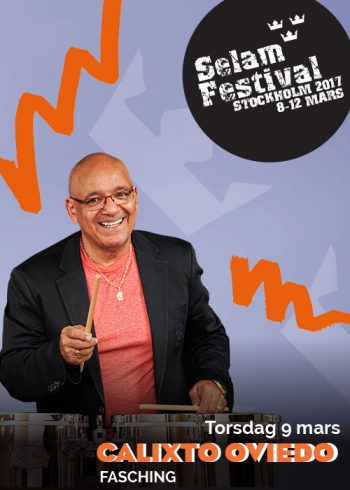 In 5 Day Selam Festival Stockholms occupy the capital city with concerts, after-parties and mingle. I this year's updated version the festival will be held in Stockholm at a total of 5 different stages, with performances from So states like Mali, South Africa OCH Cuba. First on the Fasching stage, Calixto Oviedo!
Calixto Oviedo is a Latin Grammy nominated artist (2000 La Rumba del Siglo) and is endorsed
by DC California Drums, Gon Bop, Innovative Percussion and Soultone Cymbals. Calixto has had the opportunity to play with numerous internationally known artists including Paquito D'Rivera,
Arturo Sandoval, Gonzalo Rubalcaba, Chucho Valdes, Danilo Perez and many others with a
career that spans over 38 years.
Calixto Oviedo was born on October 14, 1955 in the Havana Barrio of La Vibora. Calixto's
earlier musical memories were at the age of two or three, waiting in front of the television, toy
violin in hand, to play along with performances of his favorite band, Orquesta Aragon. It was at
the advanced age of four, however, that it became clear to the young prodigy that his true
calling was to play the drums. The toy violin was discarded in favor of a plastic bucket, several
cans, and a frying pan, all of which he played with drumsticks fashioned from coat hangers.
He joined the conservatory at the age of eight, but by then he was already a formidable player
and started paying with a professional band. He formed his own band at the age of 17 with
various future players of the NG La Banda. He was the drummer with NG La Banda during the period that produced many of their greatest recordings, including Santa Palabra, Échale Limón, and El Trágico. In the mid-90's, he relocated to Sweden, during which time he made an excellent Timba recording, "La Recompensa" with his son Yulién, and other key members of Charanga Habanera. He was also the drummer for the Afro-Cuban All Stars band. Calixto moved from Stockholm to Lakewood, CO in July of 2013. Since then he has been performing and teaching clinics at major United States Universities, such as University of Colorado at Boulder (CU), California State University at Los Angeles (CSULA), and Berklee College of Music.
Read More