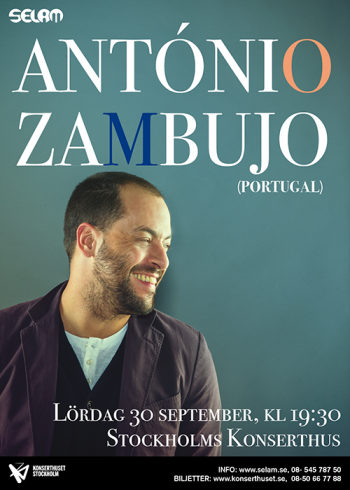 António Zambujo is one of Portugal's most innovative performers. His influences extend far beyond Fado and include such performers as Chet Baker, João Gilberto and Tom Waits. 
António Zambujo and his star quintet preserve Fado's sense of longing and sorrow in songs that unite music from southern Portugal with Brazilian pop. Last year, António Zambujo held around 30 sold-out concerts in Portugal's leading concert hall and his two latest albums have gone platinum.
António Zambujo was born in Beja, Alentejo (South of Portugal) in 1975. He grew up listening to the traditional male chant called 'Cante Alentejano' that became one of his strongest influences. Around the age of 8, Zambujo started studying clarinet but soon he fell in love with Fado when listening to Amália Rodrigues, Alfredo Marceneiro, Maria Teresa de Noronha and João Ferreira Rosa. And it was singing, when he was 16 years old, that he won a regional Fado contest.
His professional career started when Mário Pacheco, the renowned Portuguese guitarist and composer, invited him to sing in his Club de Fado, in Lisbon. Not for a long time though. After an audition, António was chosen to take the role of Francisco da Cruz, Amalia's first husband, in the blockbuster Musical 'Amália'. He performed continuously during 4 years in Lisbon and after that he toured all around Portugal achieving enormous success.
António Zambujo – song
Ricardo Cruz – double bass
Bernardo Couto – Guitar
José Miguel Conde Clarinet
João Moreira – trumpet
Marcos Alves – Percussion
In collaboration with The Stockholm Concert Hall
Read More
Google map