Qwanqwa, based in Addis Ababa, Ethiopia, is named for this concept, Qwanqwa being the Amharic word for language. The members have come together for a unique and powerful sound with an equally meaningful message.  At its core, this band is instrumental, since they believe that, to reach the widest audience, a single singer can limit the effect.
However, the list of guests and collaborations is long, including both beloved and famous singers such as Fikraddis, Habte Michael, Amelmal Abate, as well as beloved Azmari singers Selamnesh Zemene, Ertibu Agengehu, and Etenesh Wassie.  Not limited only to singers, Qwanqwa also has collaborated with the virtuoso masinqo player Endris Hassen, the father of washint, Johannes Aferwork, Dawit Frew, Ethiopia's foremost clarinetist, and many other treasures of the culture's traditional music.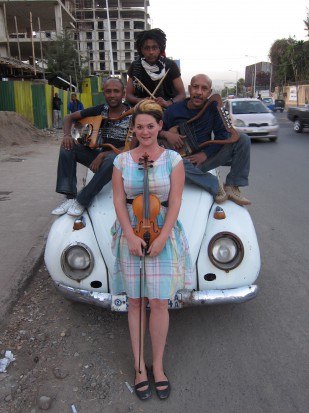 The four members at Qwanqwa's essence each bring unique stories to this group:
– Mesele Asmamaw, kirar, has been a composer and arranger in Ethiopia for over 20 years. He has released many albums of his compositions as well as traveled extensively throughout Europe and Africa performing the traditional music of Ethiopia. Within the last 8 years or so,Mesele has been a favorite guest of the influential punk band "The EX," has recorded several albums with the experimental Norwegian drummer Paal Nillson-Love, has toured and recorded with his experimental rock group Trio Kazanches, and worked extensively with MulatuAstatke, both in the studio and on stage. He uses several interesting techniques in Qwanqwa, including a wahpedal, a distortion pedal, a coke bottle and a plastic tube.
– Dawit is Qwanqwa's secret weapon.  Master of the basskirar, his interests and experience have informed his unique sound which is at times funky, at times sentimental, but always solid and appropriate. In 2013,Dawit was selected to represent Ethiopia in the Nile Project, with whom he toured Africa extensively. He holds the prestigious position of house bassist at HagarFikr, the national theater house in Addis Ababa.
– Sami, Qwanqwa's rhythmic backbone, brings a fresh enthusiasm to the group's sound. He incorporates tambourine, bells, and other homemade percussion to his traditional kebero to create a variety of moods. He comes from the Azmari tradition of musicians, known as the troubadours of Ethiopian music.
– Kaethe Hostetter, 5-string electric violin, has been living and collaborating with Ethiopian musicians for many years. She is a founding member of the critically acclaimed Ethiopian group Debo Band, and with them has played many stages including Lincoln Center, Kennedy Center, Chicago World Music Festival, GlobalFest,Bumbershoot, Bonnaroo, Calgary Folk Festival, and more. Kaethe has relocated to Ethiopia for her work withQwanqwa, although still travels to US for Debo Band engagements.
Qwanqwa is very active in Addis Ababa, Ethiopia. To date, they have released one cassette on FPE records, which received a glowing review in the prestigious music magazine The Wire (Aug 2014).  They have a full album coming out in December 2014, also on FPE records.
LISTEN TO QWANQWA http://www.mixcloud.com/qwanqwaband/
Photo Galleries
QWANQWA (ET) appears on the following photo galleries:
Gallery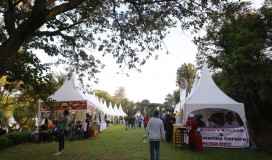 Past Events
QWANQWA (ET) has performed on the following Selam events: