Helen Berhe is an Ethiopian rising star who is best known for her cover song Uzaza Allina which was originally released by Nada Algesa.
Since her childhood, Helen had a special affection for music and dance. She attended high school at Menen High School.
In 2010 Helen released her new album titled Tasfelegnaleh (I need you!), which took three years to complete and was composed by two best known Ethiopian composers Abegaz Kbrework and Wondimeneh Assefa. As a result, the album was well received by her fans and the general public. Helen worked on this album with talented people like Habtamu Bogale, Eyobel Berhanu, Zelalem Terefe, Tamrat Desta, Abel Mulugeta, Asnake Gebreyes, Alemayehu Demeke and Getish Mamo.
Photo Galleries
Helen Berhe (ET) appears on the following photo galleries:
Gallery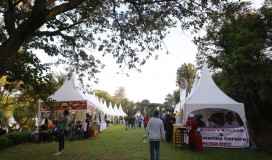 Videos
Helen Berhe (ET) appears on the following videos:
Past Events
Helen Berhe (ET) has performed on the following Selam events: