Launch of Culture Leads the Way!

onsdag 18 april 2018
/
/
Tags:
April 18th 2018 Selam Ethiopia launched its three-year project Culture Leads the Way (CLTW).The project has the overall goal of strengthening and advancing the participation of culture actors in development processes through different forms of cultural expression forms.
Teshome Wondimu, founder and executive director of Selam, announced that the project's specific target group is young women and men engaged in the cultural areas of music, film, media, and circus. The new project has a broader scope than previous Selam projects and apart from Addis Abeba administrativt city, it includes the regions of Oromia, Amhara, SNNPR, and Tigray. Within the project, Selam will collaborate with partners such as the Ministry of Culture and Tourism, Addis Ababa University, Circus Debre Berhan, and other key culture and media actors. The Swedish International Development Cooperation Agency (SIDA) is the main source of funding for Culture Leads the Way.
Read more about the project
Project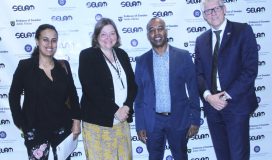 Addis Abeba, Ethiopia