'I have a dream' – A Theatrical Circus Tour to Promote Equal Opportunities for Girls

fredag 3 maj 2019
/
/
Tags:
'I have a dream'
A Theatrical Circus Tour to Promote Equal Opportunities for Girls
Circus Debre Berhan (CBD) and SELAM Ethiopia today announce the launching of an educational circus tour entitled: 'I have a Dream' which will start in the city of Debre Markos on the 4th & 5th of May 2019. The circus tour will continue to selected cities in the Amhara Regional state until the end of May. The purpose of this circus tour is to raise awareness and promote equal opportunities for girls in various socio-economic activities within local communities.
'I have a Dream', has been developed based on the theater for development approach which is an effective tool to deliver educational messages through an entertaining and engaging circus shows. The circus production is a result of an extensive assessment in various towns and cities in Amhara which findings identified prevailing socio-cultural challenges facing young girls and women. I have a dream is an interesting story of a young girl's quest to follow her dream of becoming a musician against the fierce objections from her parents. The show invites the audience for dialogue to find a compromise between the strong traditional convictions of the parents and the tantalizing dreams of the young girl.
The circus tours will be presented to university and high school students in their respective facilities as well as to general public ideally in local markets and public squares. After the opening in Debre Markos, the circus tour will continue to Nine different towns in the Amhara region specifically; Gondar, Bahir Dar, Lalibela, Kobo, Wolldia, Dessie, Kombolcha, Showa-Robit, and it is expected to be concluded in the city of Debre Berhan at the end of May. It is also schedule a second leg of the tour will be organized later in June in various sub-cities in Addis Ababa, and Selam will communicate the details for the second tour in due course.
Selam Ethiopia is implementing a three-year project "Culture Leads the Way" which is supported by Sweden Embassy, and circus is one of the four thematic areas of project activities. Circus Debre Berhane is one of the partners for circus project activities within CLtW project and this circus tour will be implemented by CDB. The overall objective of CLtW project is to strengthen the role and participation of young women and men artists in social and development issues through culture expression.
Read more about the project
Project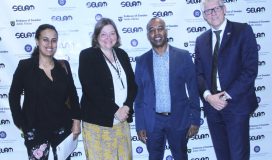 Addis Abeba, Ethiopia