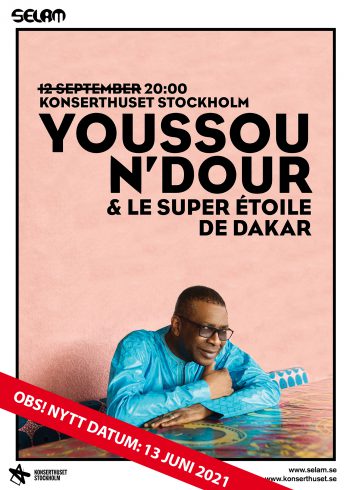 The 2013 Polar Music Prize-winner Youssou N'Dour is one of Africa's biggest and most influential musicians, both musically and socially. He has received numerous accolades for his work and over the years, he has collaborated with greats like Peter Gabriel, Sting, Tracy Chapman, Paul Simon, Bruce Springsteen and Wyclef Jean.
Youssou N'Dour's music originates in the popular M'balax musical style, a genre which Youssou played a significant role in shaping. Youssou N'Dour is a composer, orchestra conductor and producer, and despite his firm roots in Senegalese music and culture, he continuously takes in new impressions and influences.
His powerful dedication to pan-African social issues has made him an important reference, with several assignments for organisations like Amnesty International, the UN and UNICEF. Legendary Rolling Stone Magazine has called him "perhaps the most famous singer alive" in Africa, and Time Magazine named him one of the 100 most influential people in the world in 2007.
Now, when Youssou N'Dour and his legendary band, Le Super Étoile de Dakar come to Konserthuset Stockholm for an exclusive concert, he is more relevant than ever before. The latest singles, "Nay", "Mbeggeul is All" and "Be Careful" were chart-toppers in his native Senegal and in Gambia.
In collaboration with the Stockholm Concert Hall
Read More
Google map