Joel Sebunjo is one of Uganda's most recognised young folk / world music artistes. Over the years, he has crossed international borders sharing and presenting his sounds to nations.Today he is called "Uganda's Youssou N'dour"
Joel Sebunjo is one of Uganda's best world music exports. Celebrated all over East Africa, for his talents, he has traveled globally and performed alongside legendary artistes like Yossou N'dour, Salif Keita,Miriam Makeba, Oliver Mtukudzi and many more.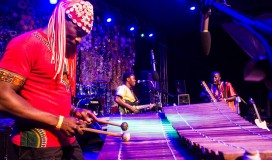 Meeting Aly Keïta is a great opportunity to discover what being "passionate about music" really means. When Aly speaks or plays music, he shares his enthusiasm with those around him, with a glimmer of a dream in his eyes. Always smiling, he communicates his joie de vivre and energy to each and every person. "I want my music to be alive and energetic, full of hope and love, music that I can share with the public and through which the public and I can share our joy." – Aly says.
Kareyce Fotso was born in Bamileke, Cameroon. With a background including bio-chemistry, cinema, broadcasting and photography, she has won awards for comedy, sung backing for Sally Nyolo and invited to guest with Habib Koite.
Kareyce Fotso has constructed her new repertoire as if it were Cameroon itself: a place of harmony, a hub of encounters and love between peoples. Several regions inhabit this album; eight different languages resonate naturally. Whether she is speaking, singing, whistling, whispering, dancing, playing the guitar or drums, Kareyce unfolds before us much more than a small corner of the world map.
Föregående Events
Joel Sebunjo, Kareyce Fotso, Aly Keita (Uganda,Mali, Cameroon) har uppträtt på följande events: