Program 14-15 of January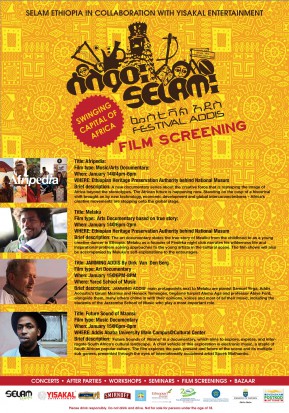 AFRIPEDIA/Music/Arts Documentary
January 14,  4pm-6pm at Ethiopian Heritage Preservation Authority behind The National Museum
 A new documentary series about the creative force that is reshaping the image of Africa beyond the stereotypes. The African future is happening now. Standing on the cusp of a historical shift brought on by new technology, economic development and global interconnectedness – Africa's creative movements are stepping onto the global stage.
Q&A after the screening with invited filmmakers and directors Teddy Goitom, Benjamin Taft and Senay Berhe from Stocktown in Sweden.
MELAKU/  Arts Documentary based on true story.
January 14, 6pm-8pm at Ethiopian Heritage Preservation Authority behind National Museum
The art documentary states the true story of Melaku Belay from his childhood to a young creative dancer in Ethiopia. Melaku is the founder of Fendika night club, the film narrates his wilderness life and inspirational problem solving approaches as a young artist in the cultural scene.
Q&A with Melaku Belay.
JAMMING ADDIS by Dirk Van Den Berg: Art Documentary
January 15, 6PM-8PM at  Yared School of Music
'JAMMING ADDIS' main protagonists next to Melaku are pianist Samuel Yirga, Addis Acoustic's Girum Mezmur and Henock Temesgen, begènna harpist Alemu Aga and professor Abiye Ford; alongside them, many others chime in with their opinions, voices and most of all their music, including the students of the Jazzamba School of Music who play a most important role.
Q&A with film maker Dirk Van Den Berg (Germany).
Medverkande
Vi har glädjen att presentera följande medverkande:
Artist
Dancer,entrepreneur
Artist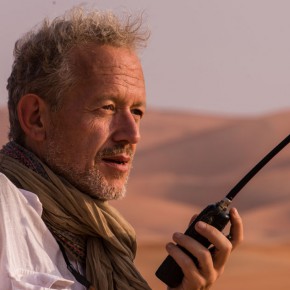 Film
Artist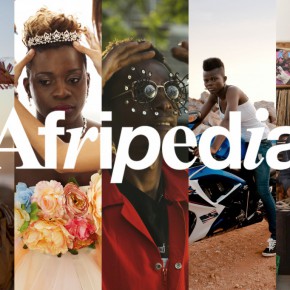 Film/Film makers